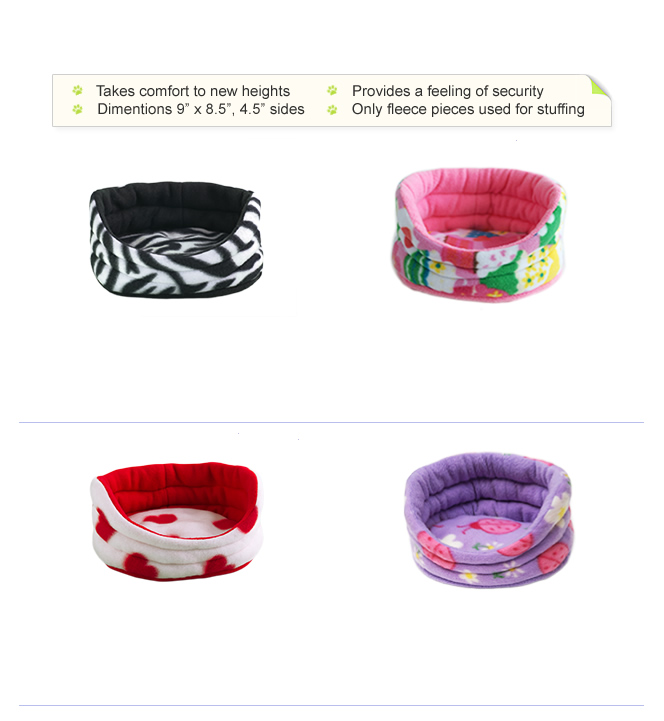 Luxury Nap Beds
for Chinchillas, Guinea Pigs, Rats, Ferrets and other small pets
Currently unavailable due to a high volume of orders

Zebra Nap Bed $24.95


Cupcakes Nap Bed $24.95


Hearts Nap Bed $24.95


Lady Bugs on Purple Nap Bed $24.95

Nap beds are also availble in the following prints:

General Nap Bed Info
Our quality fleece beds provide cuddly comfort for ferrets, guinea pigs, chinchillas, rats, degus, sugar gliders and other small pets. They are just so soft and cushy! Dimensions are 9" x 8.5", 4.5" sides. These beds are great for fuzzies who prefer a little extra security. Beds comes with a removable snuggly cushion and nickel plated hardware.
Safety info
All our Fleece Cage Accessories are made out of Blizzard and/or Anti Pill Fleece. These types of fleece are considered safest for pets. They do not unravel into loose threads as other fabrics do (ingested long threads can cause and intestinal blockage, threads can also get wrapped around a tooth, toe or foot) and do not contain fibers that can be easily ingested. All seams are enclosed and only fleece pieces are used for stuffing. We use nickel-plated hardware, so no worries about zinc toxicity.
Installation
Please use a pear link (comes with the bed) to securely attach the bed to the cage.
Care instructions
Our Pet Beds are machinne washable (cold/warm water, gentle cycle) and dryable (low heat, remove promptly).
Please note
Most fuzz balls do not chew fleece. You may see some test nibbles, but after they see that it does not come apart, they just give up. No fun playing this way! If your fur baby ever makes holes in fleece accessories, we recommend that you remove the item for you pet's safety.