Happy Fuzzies enjoying our accessories, treats and supplements!

Please email your comments and pictures!
Oh my goodness! Your products are beyond wonderful. I received everything yesterday and I wanted to send you a quick note to thank you for the supplement samples! I can't wait to set up the cages with all this beautiful fleece and I so appreciate the print out for the tube. It was as if I was opening a present for myself, everything is just so beautiful. Also, all of my boys went wild for the broad spectrum supplement!


~Sandi

I just received my beautiful sofa bed today and it is gorgeous! Thank You so much... The workmanship and quality is pristine..( Plus the packaging.) These are my 2 boys.. Maxwell and Nibbles....They are both rescues... Nibbles is the one that claimed the new Sofa Bed today as me and my husband reconfigured their cage. Thanks Again, Celine ; )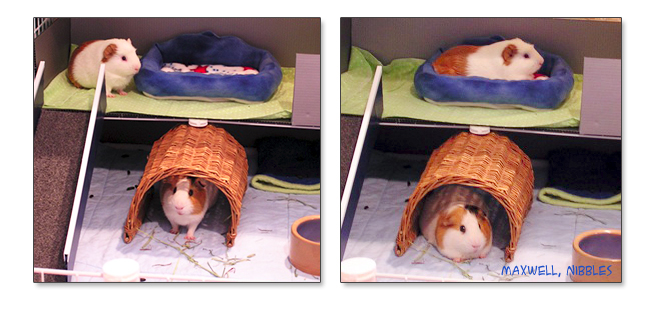 ~ Celine

We love the hay so much, I am placing another order in 2 weeks for 2 more bags. :)
Here are 3 new pics, and what Charlie did, when he received the package.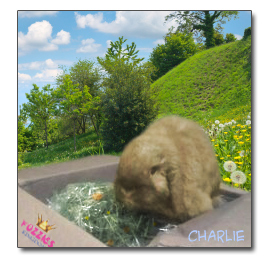 ~Kinga
www.takethehealthyway.com

I would like to say that chin monster #1 (Loki) loves his tube. He doesn't sleep in his box anymore. I was really impressed with the quality too. Despite his innate need to destroy everything and everyone in his path, he hasn't destroyed the tube or its covering yet. Thanks again for the awesome tube!
~Jess

I got a little 1/4 teaspoon measure and she ATTACKED the spoon. As you can see from the last two pictures, she grabbed the spoon with both paws and tried to shove it in her mouth! She LOVES it.
Thank you so much for your wonderful products and fabulous advice and support. Thanks a ton!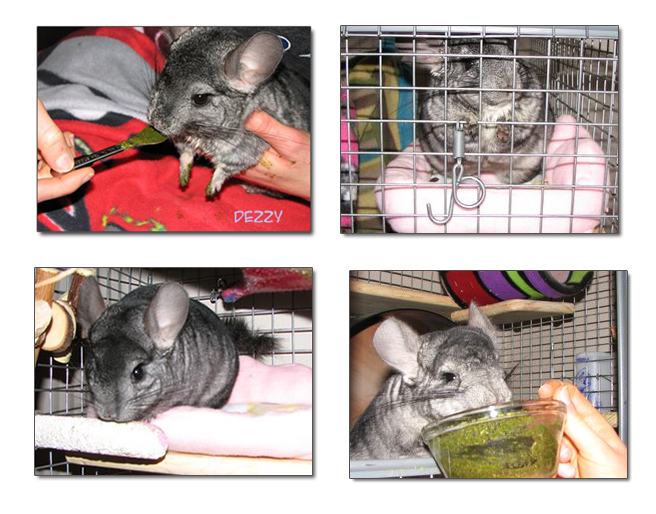 ~Nicole

My guys LOVE your stuff. Zim has a tube as well and Atlas has a comfy bed from you. Thanks!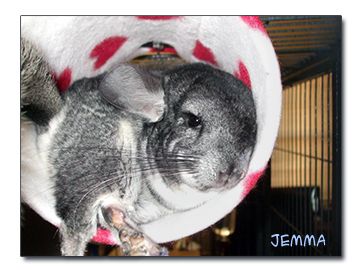 ~Leni

I bought these right before the temperature dropped for the winter. Once the temperature dropped, my chinchillas have enjoyed sleeping in their tubes. I guess they love stretching their bodies against fleece during the colder months. One of my chinchillas (the grey one) is a major chewer & he's managed to not destroy this tube (he's destroyed his previous 2 cardboard tubes). I will be purchasing more of your fleece products :-)

~Jennifer (who's been owned by Tubby & Winnie)

I ordered a Blue Camo Den and Tunnel last week. It arrived today and I absolutely LOVE THEM! I can't wait for this weekend when I clean Shadowfax's cage to put them in. Your fleece is so impeccably sewn. They seriously look as good as the images on your site. Your Website and packaging are the same quality as your product. I can tell you really care about every detail in your business. I will definitely be back for more! Thanks!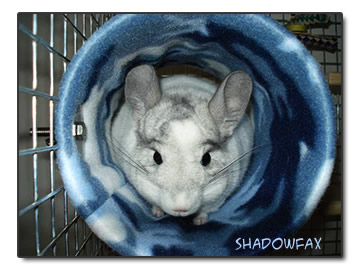 ~Tim

I got my hammocks and I love them :) I am actually using them for CHIHUAHUA puppies. They love them!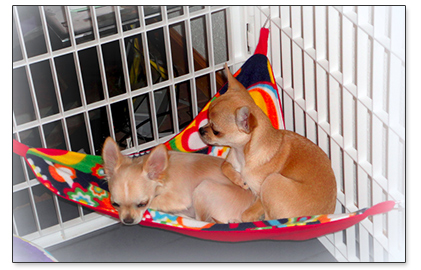 ~Kristi

Your fleece items are truly the absolute best quality I've ever seen. When I received them, I was nearly dumbstruck! I know they'll last for years to come. Thank you again.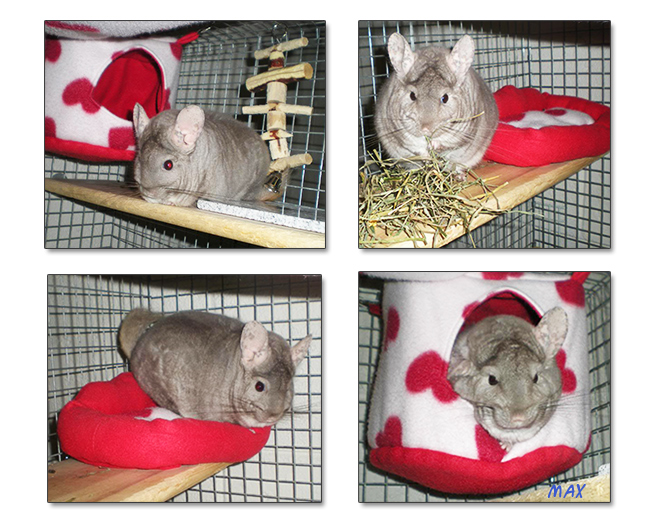 ~Shayna (and Max!)

Thanks again for your wonderful service, quick shipping & quality products!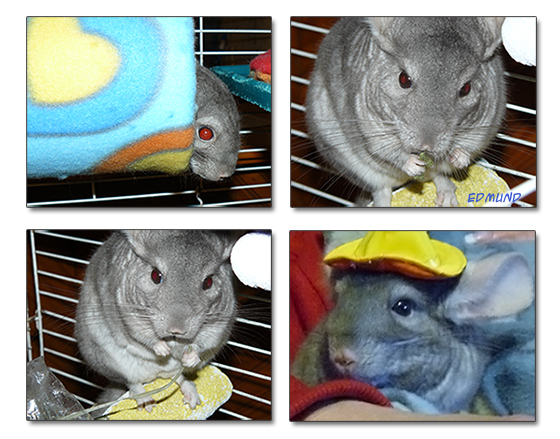 ~LindaSue

The items you sent are absolutely adorable and really well put together. I am very pleased with them and definitely plan on ordering more when these wear out or I get tired of the pattern. The girls though only 8 weeks old already love their fleece tube and fleece cube. They haven't shown much interest in the hammock yet besides using it as a momentary perch/something to run through. They are currently enjoying some of your supplement. I mixed a bit of it with a bit of the supplement Cat and Bill already have them on. They gobble it right up. Thank you for the hay and oat tops sample! They love the hay.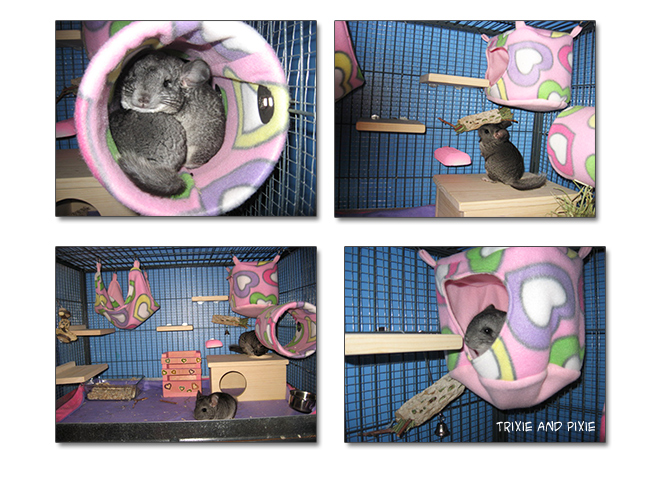 ~Lillybabe

I've been purchasing supplements, hay and remedies from you for almost a year and I have to say we are never disappointed!! The organic hay is by far the favorite choice of my two boys out of all the kinds we have tried. We've been using the Broad Spectrum Supplement for over 6 months and my boys are healthy, their coats are wonderful and always get compliments and I can't help but believe your supplement aids in that! My greatest purchase from you has been the Stress and Anxiety Remedy. When I got my little mosaic boy Jasper he was not in very good condition. He was a fur chewer and a very nervous, distrusting boy. We started giving him the remedy about 3 weeks after he came home and from that day on he hasn't taken one nibble out of his fur and there was a complete turnaround in his demeanor. I think being calmed from the remedy helped him and myself in creating a trusting bond between us. Thank you for your hard work and dedication to providing the best products to help our little furries!!

~Kaity

I just wanted to thank you, I got my order today and my chins, Tigger and Eeyore love to the tunnels and hammock. It came faster then i expected too, they loved the sample that came with it as well. We are all very happy customers. Your products are awesome and look great in their cage!! Thanks from Tigger, Eeyore and me!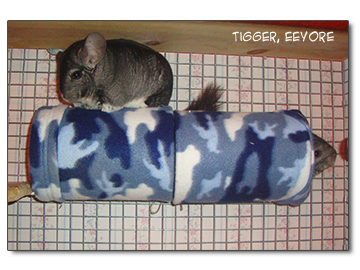 ~Kara

I have been using herbal seizure remedy for my bunnie for several months now. He is doing better. No episodes every week. Thank you!

~Nevenka

My 6 year old chinchilla Gizmo loves your den house! It's by her choice too!
We used to have her sleep in a box (inside her four level mansion of course) with flannel bedding on the lowest level but now she wants to sleep on the top level in her den house and no where else!
Thank you for selling such a great product!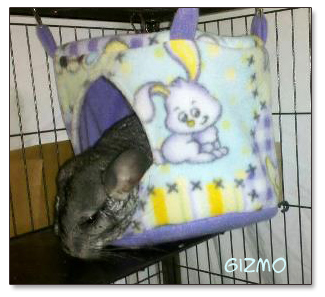 ~Sherie


I want to express gratitude for your wonderful products, and the obvious care, attention and presence you have with your business … it shows!
Having shopped around quite a bit since getting a bunny about a year ago, I find that your products are clean and good quality, wisely prepared, and thoughtful toward our beloved furry friends. Keep up the good work!!

~Rockets


We received your package on Monday, I meant to let you know. We love it and so does our new chinchilla! He sleeps in the tunnel now more than his bed, lol, thank you!

~Cameron


Here are Bronte (the Abyssinian) and Rosie (the albino) popping their heads in and out of their bowl where we mixed the treats in with their pellets one head goes in the next waits and repeats.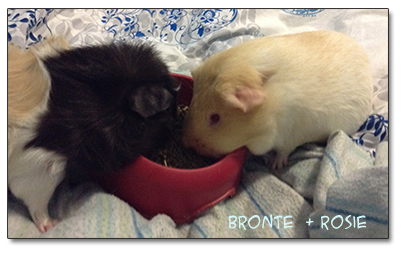 ~Hannah


Gotta say, I was surprised. I went to feed Houdini the EFL but he struggled against it. Probably thinking it was the critical care. But after he tasted it, he went right for it. He has no resistance to eating this stuff at all. I do not even have to pick him up to feed him, he just comes to the cage bars and gets it. And if I'm not giving him the EFL from the syringe fast enough, he starts the chew the plastic tip trying to get to it! Now here's hoping it lasts!
https://www.youtube.com/watch?v=k7omiPAWzxU&feature=youtu.be

~Brian

I would like you to meet Molly my ebony chinchilla. Today is April 17, 2016 Molly was born on March 3 2015. I fell in love with her the minute I saw her picture on kijiji. I bought her she was 4 months old when I brought her home. Everything was going so well until October 2015 she started to have seizures once a month, each episode lasted about 3 hours so the first 1.5 hours she had between 10 to 15 violent seizures (the equivalent to a human grand mal seizure) and the last 1.5 hours was spent recovering from them. On February 20, 2016 I started Molly on the Liver problem remedy and the seizure remedy as of today April 17, 2016 my little Miss Molly has been seizure free for 80 days!!! I am so thankful you have no idea how much I love her. It is so easy to get attached in such a short period of time with her and her little happy hoppy squeeky sounds she makes. Thank you once again!! You will continue to receive my business and I will refer as many people as I can to you.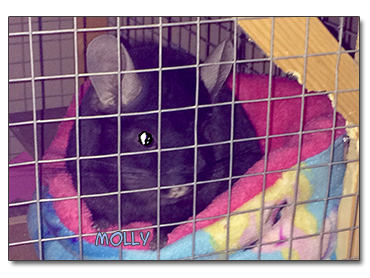 ~Jennifer


Got the tunnel today and it is gorgeous! Kira was climbing in while I was trying to attach it to the cage! Looks like she has a new favorite spot! Thank you for the samples too! Haven't tried them yet but they look yummy!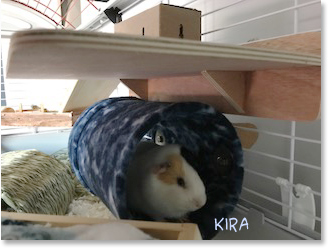 ~Priscilla


Omg u guys are awesome! My picky chinchilla refuses Oxbow and SPS but loves your hay, herbs and toppings. Thanks.

~Kency


Chubs loves his new fleece accessories, the quality is phenomenal and great customer service. Thank you so much and also got samples which were huge, will definitely be ordering more in the future.

~lildebbie


Just wanted to let you know that my gpigs Freddy and Thelma absolutely love your items. They beg for it, they cant wait for me to get it out of the bag. They go literally crazy over it. so far their favorite is the organic whole echinacea plant you have included as a sample gift with the last order. But I have ordered more items this time to try out different things. But most importantly, not only do they love your items, both of them already seem to have more energy and seem overall very healthy. Freddy had a severe inner ear infection, he was on chloramphenicol for one month.... for him I ordered the liver support to offset the side affects of being on medication for so long. Thelma is the one I always worried about a lot. Genetically she is very weak and needs all the help she can get. Last year she had uterus cancer, which she survived, yay!I wish I would have known about your website then already. but since her surgery she has had a lot of digestive problems like mucus in her fecal, soft fecal etc. I feel that since she is getting your herbal supplements she has gotten a lot better. Also my pitbull girl Deja does love your organic dried dandelion roots ;-) and why not, dogs can benefit from it too. I am attaching some paintings I did of my 3 babies. Keep up the great work!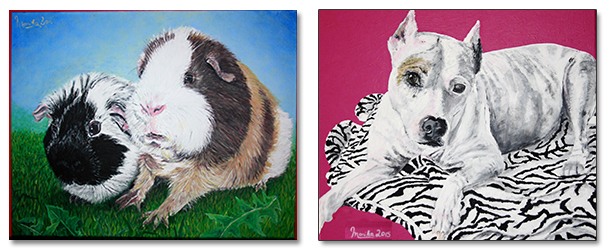 ~Monika


I just wanted to say thank you for your wonderful supplements. Sadly, last month I had to say goodbye to my beautiful 17 year chinchilla girl, Colby. I feel that your supplements were a big part in keeping her going as long as she did. There were a couple times I almost lost her in the past and your supplements were the only things I could get her to eat. I miss her so much, she was such a joy in my life. Thank you and I am so appreciative I found your products years ago. :) I will still continue buying your supplements for my chinchilla boy Kyser though. He loves them too.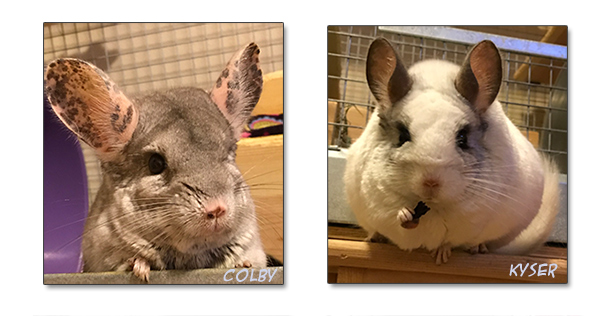 ~Carrie


My newest order arrived & i can't thank you enough!! everything is adorable - like always!!! i can't wait for my new girls to be ready to come home, their cage is going to look so cute!! once they're here, i'll send you photos of everybody loving their FK accessories :thumbsup:
thanks a million times over!!

~Nikki

Just got my order in. It looks even more amazing than I thought it would and the quality is fantastic!
One of my furballs immediately claimed the nap bed. She's been laying there with her eyes closed and ears tucked and hasn't budged since. I actually started to worry so I enticed her to move with some of your treats. She perked up and gobbled the heck out of them, then went right back and "assumed the position" in her princess bed with her eyes closed and ears tucked so far back the tips pointed down. I've never seen her do that before! What is that look? Sheer bliss?
Thank you so much. My babies are officially spoiled rotten like they deserve.

~Jewelz

My piggie recently had surgery to remove a bladder stone and getting his appetite and weight back up have been slow going. I tried oxbow critical care which I had to really force feed. I put your force feed in the syringe and stood there while he gobbled it up and begged for more. He tried to grab the syringe to take it with him. J He LOVED the appetite stimulant and broad spectrum too. It's exciting seeing him excited about eating something again. I'm trying out the sample of flowers now. I can't wait until your hay is back in stock so I can see how he likes that too. I always feed him organic veggies so it's nice to see a company who sells organic hay and snacks too. Just wanted to share because I am so happy with your products. Thanks again!

~Lydia

Order received yesterday and I am thrilled with everything! My chin was very excited by the Broad spectrum and the generous "sample" of Red clover. I love the Dots patterned fleece and everying is sewn so beautifully!
Just had to say Thankyou Thankyou Thankyou!!!

~Casey

I just wanted to write to you and thank you. The hammocks are gorgeous...I wish they could be made to my size, haha! The fleece you use seems to be sturdier than my old hammocks. I haven't used them quite yet as I am waiting for my new cage, but I will update you when they first use them. The supplements are fantastic as well. The girls go bonkers over them. My goodness does that Broad Spectrum smell yummy, my fiancee wants to make a tea out of it, haha! My girls meet me at the door of the cage when I pull that out and fight me to their bowl, they can't gobble it down fast enough. Its gone within minutes and it seems to help them eat there regular pellets as I guess it scents them. Thanks a ton!

~Michelle

I just wanted to send you a message and let you know that my chin loves all of his new stuff!! I put his tube next to the ledge he always sleeps on, and now he sleeps in his tube every day!! The duckie print is adorable, too. I have also seen him hang out in his hammock, and he never got into his previous one. The supplements and treats have also been great. I have been giving the recommended amount and he gobbles it all up as soon as I put it in the cage. I will definitely be ordering more, and thanks again!!

~Anna

I got my tube today and it looks great. Thanks!! I wanted to ask what was in that supplement sample that you included? I sprinkled a little in each of the boys food bowls and they went nuts! One chin actually tried to grab the bag out of my hand when I was putting it in his bowl! I may be ordering some of that from you in a few weeks. Thanks again for the great product!

~Erin

Just wanted to let you know that I received the tunnels today and they are great! They perfectly match the hammock I have and my chinchillas are having fun checking them out. Thanks so much for finding the charcoal fleece for me and for being so prompt. Also, thank you very much for the hay - each of my chinchillas sampled a dried clover and were very pleased.

~Amy

Thank you so much! Not only is this order perfect but it is all organic which lets me know my chins have treats that are safe. I couldn't be more pleased with your service or this order. All 6 of my chins approve! Thank you for the free oat tops they loved them! And the tubes are beautiful. Will be ordering some of the other blends very soon!!!!

~Jessi

I had to send this email because the product I ordered from this company is AMAZING! The product was the fleece covered steel tube, which my chinchilla loves! I wanted to add some more fun things to his cage and noticed that other tubes are PVC- which doesn't seem overly practical or well thought out for chinchilla. The lightweight metal of your product with the fleece is the Perfect balance between a cozy/soft place, but also is much cooler for my chinchilla to lounge in. Thank you so much, and I will be ordering more products from this company!

~Alexandra & Atticus

My 6 year old chinchilla Gizmo loves your den house! It's by her choice too! We used to have her sleep in a box (inside her four level mansion of course) with flannel bedding on the lowest level, but now she wants to sleep on the top level in her den house and no where else!
Thank you for selling such a great product!

~Sherie

I'm so impressed with the tunnels. Even my fatty boy Mr. Zen fits and can even even do a u-turn inside where as my older cheap cardboard tubes I got him he had to only go forward as if he tried backing up his hips got stuck.
I can't wait to order more of the supplement when I finish the sample bag. Everyone goes bananas for it. Mr. Zen my mr-always-hungry chin scales the walls of his nation cage like a gecko once he hears the bag.

Thank you for selling such a great product!

~Chung

Thank you so much for all the lovely herbs! The 4 buns Love them. I am amazed at the shipping speed, price, and quality of your products. And the free samples are so nice. We will be coming back to shop soon! You have gained a lifelong customer.


I have a guinea pig who is on the older side, almost five. He decided not to eat for two days, I don't know why, but we went to the vet the second day because I knew he could have gi stasis by then. He got IQ fluids and antibiotics and pain med and critical care to hand feed and his liver enzymes were very elevated. The vet said check them in a week and she >> expected they would be back to normal but they were the same. She though he may now have liver damage from the stasis and repeat them in a month. So then I bought your herbal liver mix and sprinkled some on his pellets every other day and last night he had bloodwork and his liver enzymes were so much better!!!!!! I just wanted to tell you 😊🐹. I'm so happy. I luv him. Thank you for such a good product.

~Anne

I want to truly thank you for the extra time we got with Bronte because of the immune support and that Albert and the New Guinea pig daisy are getting along with the help of the stress and anxiety remedy.

~Hannah