Herbal Joint Care
for rabbits, chinchillas, guinea pigs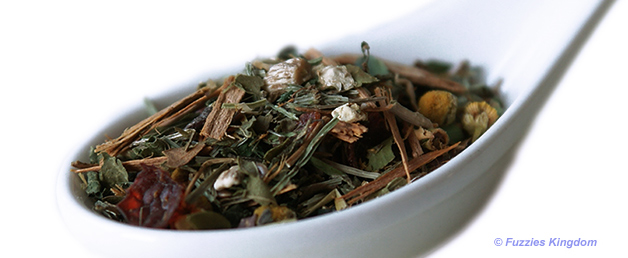 Relieves the discomfort of arthritis
Helps repair joint tissue damage
Improves circulation of tissue-cleansing lymph
Helps remove excess metabolic wastes that can contribute to solid buildups in the joints
This herbal arthritis remedy is formulated for older rabbits, guinea pigs and chinchillas who suffer from chronic arthritis – joint and connective tissue degenaration leads to aches and pains.
Joint Care contains herbs rich in vitamins and minerals that are needed for joint repair. Dandelion's diuretic actitity helps remove extra metabolic wastes that can contribue to build ups in the joints.
Cleavers, a lymphatic herb, improves the circulation of tissue-cleansing lymph around the inflamed areas.
Horsetil is a souce of bioavailable silicon that aids in connective tissue development.
Rabbits, chinchillas, and guinea pigs' muscles are able to remain more flexible and oxygenated due to hawthorn's ability to increase blood flow in tissues that surround arthritic joints.
When can you expect to see the results?
Using herbal Joint Care for arthritis is a safe and wise way to relieve discomfort of arthritis in rabbits, guinea pigs, and chinchillas. However, it takes 30-75 days to see improvement. Herbs do not work as fast as drugs – please be patient and remeber that you selected the safest way to address the arthritis problem!
Ingredients: Organic blend of hawthorn, cleavers, nettle, cat's claw (wild harvested), dandelion leaf and root, horsetail, rose hips, flaxseed.
Directions: Degu – 1/3 teaspoon; chinchilla, guinea pig, small and medium rabbits – 3/4 teaspoon; larger rabbits – 1-1.5 teaspoon; the formula can be given daily.
Safety: We only use herbs that have an excellent safety record over thousands of years of use by pets and people, and are widely used today. We do not add herbs that just look cute or sound fancy, much thought and knowledge is invested in each formula that we offer. We won't risk the well being of your pet offering sugary treats or a herbal compound that is not recommended for internal use by AHPA.