Herbal Remedy for Dry Skin
for rabbits, chinchillas, guinea pigs, degus
Only fresh, Certified Organic Ingredients used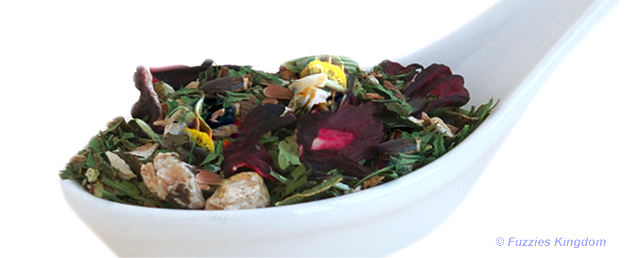 Works together with animals' innate powers
Supplies skin with needed nutritional components, including zinc, pantothenic, linoleic, and linolenic acids
Source of enzymes and co-enzymes, numerous minerals, vitamins, including vitamin A, E, and C.
Tartaric and malic acids provide essential nutrients to the skin
Supports liver, immune system, and digestive functions
What causes chronic dry skin in chinchillas, rabbits, and guinea pigs?
Various forms of skin problems, including chronic dry skin, often stem from nutrient deficiencies. Unfortunately, not all nutritional components required for a healthy skin are found in commercial feeds. Also, due to synthetic origin, not all nutrients are fully available for uptake and utilization.
In most cases, herbivores who suffer from dry, flaky, scaly skin are deficient in zinc, pantothenic, linoleic or linolenic acids
The body's inability to eliminate waste or a weak immune system can also lead to various forms of chronic skin disease:
Dry skin may be related to liver dysfunction. Our Herbal Remedy for Dry Skin contains liver-protecting and liver-enhancing herbs.
The remedy enhances herbivores' immune system, relieves pressure from secondary immune functions. It also helps an animal's body system to eliminate waste and toxins.


Other crucial aspects:

Eliminate any exposure to chemicals.
You can try a different bedding material.
Take into consideration not only the amount of ingredients and plants your chinchilla, rabbit or guinea pig has access too, but also their quality. Try providing a varied diet as it helps herbivores meet their need for nutrients and optimize interactions between toxins and nutrients; all plants contain toxins. Herbivores determine safe amount of toxins to ingest by types and concentrations of toxins and nutrients they have access to.
It's also best to offer organic hays to avoid herbicides, pesticides. It's very beneficial to add a small amount of alfalfa hay to your herbivore's diet.
Even when the condition impoves, you can use this supplement once or twice a week for support or other quality, herbal supplement (for exmple, Organic Nature's Broad Spectrum Supplement) that contains essential fatty acids and zinc from organic/plant sources.

Directions: Degu – 1/3 teaspoon; chinchilla, guinea pig, small and medium rabbits – 1/2-3/4 teaspoon; larger rabbits – 1-1.5 teaspoons 4-5 times a week. When the condition impoves, you can offer this supplement once or twice a week for support.

Ingredients: Organic alfalfa, organic nettle, organic red clover, organic dandelion leaf and root, organic hibiscus, organic green oat tops, organic chamomile, organic milk thistle, organic burdock root, organic flax seed.

Safety: We only use herbs that have an excellent safety record over thousands of years of use by pets and people, and are widely used today. We do not add herbs that just look cute or sound fancy, much thought and knowledge is invested is each formula that we offer. We won't risk the well being of your pet offering sugary treats or a herbal compound that is not recommended for internal use by AHPA.