Linden Flowers and Leaves
for rabbits, chinchillas, guinea pigs, degus

Wild Harvested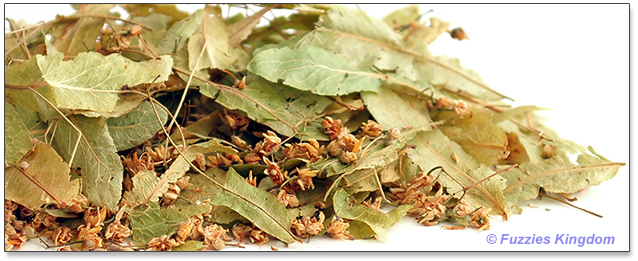 Net Wt: 50g
Healthy treat for chinchillas, rabbits, guinea pigs, and degus
Good source of flavonoids
Linden flowers improve iron absorption
Support healthy immune system functions
Chinchillas, guinea pigs, rabbits, and other herbivores love linden's pleasant taste. Linden flowers and leaves provide a light calming effect. They are recommended for animals who suffer from digestive system problems (linden flowers reduce gas and inflammation), seizures, have dark, scanty urine.
Directions: Chinchilla, guinea pig, degu, small and medium rabbits - 1 leaf and a few flowers 2-3 times a week; larger rabbits - 2 leaves and a few flowers 2-3 times a week.
Safety: We only use herbs that have an excellent safety record over thousands of years of use by pets and people, and are widely used today. We do not add herbs that just look cute or sound fancy, much thought and knowledge is invested is each formula that we offer. We won't risk the well being of your pet offering sugary treats or a herbal compound that is not recommended for internal use by AHPA.