Organic Dandelion Root Delight Treat
for rabbits, chinchillas, guinea pigs, degus
Only Fresh, Certified Organic Ingredients used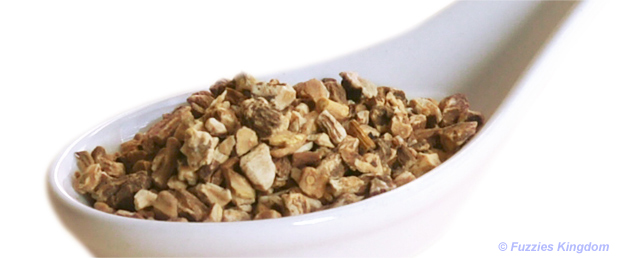 Organic Dandelion Root Delight

for rabbits, chinchillas, guinea pigs, degus
One of the richest sources of nutrients on earth
Adds diversity to your pet's diet
Improves digestion, reduces symptoms of bloating, gentle liver tonic, supports healthy immune system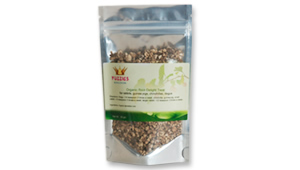 Ingredients: Organic dandelion root
Directions: Chinchilla, guinea pig, small and medium rabbits - 1/3 teaspoon 3 times a week; larger rabbits - 1/2 teaspoon 3 times a week; degu - 1/4 teaspoon 3 times a week.
Description: Dandelion root provides rabbits, chinchillas, guinea pigs, degus with many of the nutrients they need. It's an excellent source of vitamins A, C, D, B complex, zinc, potassium, iron, copper, manganese and other trace elements.
Net Wt: 90 gm
Safety: We only use herbs that have an excellent safety record over thousands of years of use by pets and people, and are widely used today . We do not add herbs that just look cute or sound fancy, much thought and knowledge is invested is each formula that we offer. We won't risk the well being of your pet offering sugary treats or a herbal compound that is not recommended for internal use by AHPA.