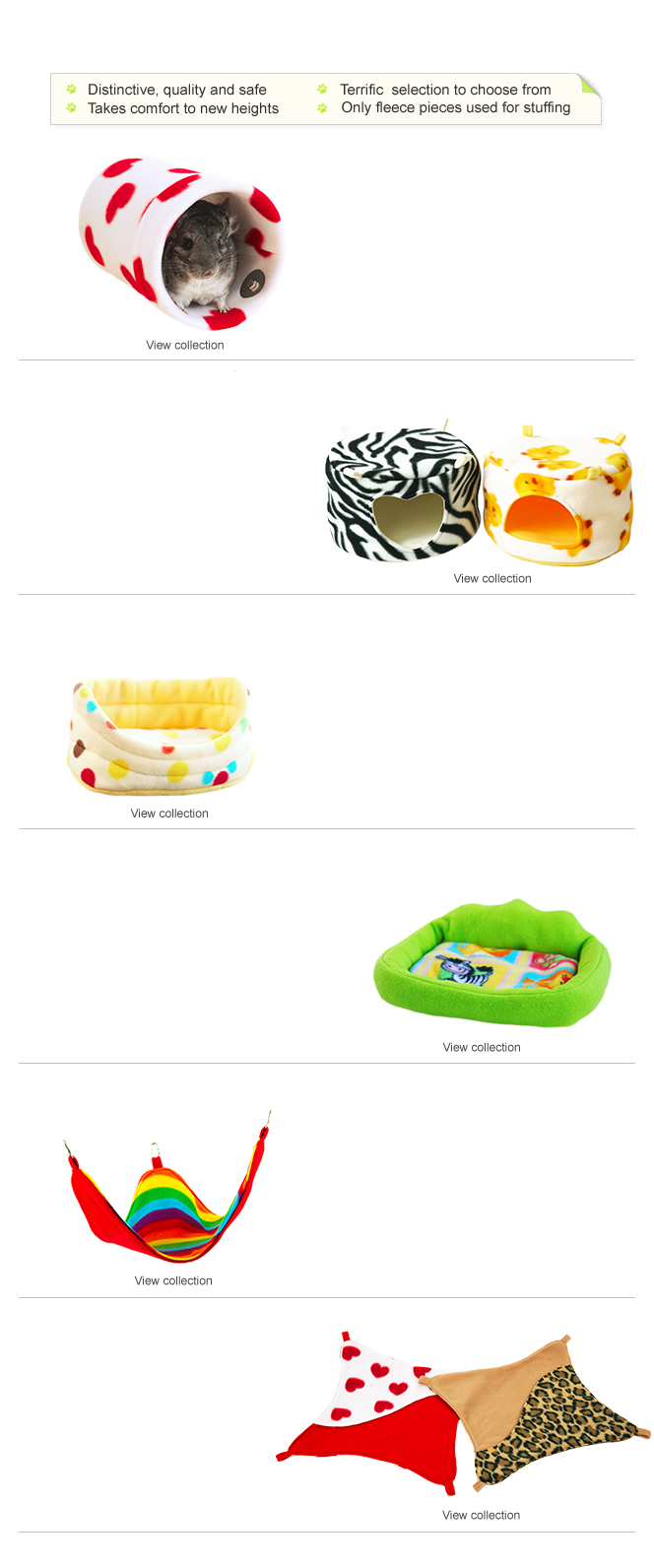 Luxury Small Pet Cage Accessories
for chinchcillas, ferrets, rats, guinea pigs, degus, sugar gliders
Handmade in the USA to the highest quality standards!
Very light and durable with removable cover
Safe, quality steel base, easy to clean
Will last for many years
Dimentions 8.5" x 6" diameter
Comforting feeling of security
Beautifully shaped entrance
Removable pillow
Dimensions 9" L x 8" W x 6" H
Takes comfort to new heights
Dimensions 9" x 8.5", 4.5" sides
Provides a feeling of security
Only fleece pieces are used for stuffing
Mix of comfort and style
Bolsters for ultimate head support
Soft, sown-in cushion
Small 10" x 8", Large 11.5" x 10"
Uniquely shaped for easy access
Dimensions 18" x 14" x 14"
Durable and machine washable
M - 13.5" x 13" x 22", L - 14" x 14" x 24"
Provides a cozy place to rest
Have a pocket for hiding
About our fleece cage accessories
Our luxury, quality and safe cage accessories provide cuddly comfort for ferrets, rats, chinchillas, guinea pigs, degus and sugar gliders. All items are thoughtfully designed, we strive for fuzzy satisfaction!
Safety info
All our Fleece Cage Accessories are made out of Blizzard and/or Anti Pill Fleece. These types of fleece are considered safest for pets. They don't unravel into loose threads as other fabrics do (ingested long threads can cause and intestinal blockage, threads can also get wrapped around a tooth, toe or foot)
and do not contain fibers that can be easily ingested. We use nickel-plated and stainless steel hardware, so no worries about zinc toxicity. All seams are enclosed and only fleece pieces are used for stuffing.
Care instructions
Our small pet cage accessories are machine washable (cold/warm water, gentle cycle) and dryable (low heat, remove promptly).
Please note
Most fuzz balls do not chew fleece. You may see some test nibbles, but after they see that it does not come apart, they just give up. No fun playing this way! If your fur baby ever makes holes in fleece accessories, we recommend that you remove the item for you pet's safety.