Organic Elder Blossoms Delight Treat
for rabbits, chinchillas, guinea pigs, degus
Only Fresh, Certified Organic Ingredients used
Organic Elder Blossoms Delight Treat
for rabbits, chinchillas, guinea pigs, degus
Essential for healthy growth and development
Wonderful source of flavonoids, including rutin, quercetin , kaempferol and mineral salts
Adds diversity to your herbivore's diet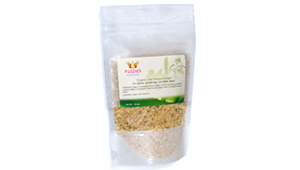 Out of stock
Ingredients: Organic elder blossoms.
Directions: Degu - 1/3 teaspoon twice week; chinchilla, guinea pig, small and medium rabbits - 1/2 teaspoon twice a week; larger rabbits - 3/4 teaspoon twice a week.
Description: Elder blossoms make a delicious and healthy treat, good source of mineral salts that are available for uptake and utilization. These blossoms support healthy immune system and keep the digestive system regular.
Net Wt: 45 gm
Safety: We only use herbs that have an excellent safety record over thousands of years of use by pets and people, and are widely used today. We do not add herbs that just look cute or sound fancy, much thought and knowledge is invested is each formula that we offer. We won't risk the well being of your pet offering sugary treats or a herbal compound that is not recommended for internal use by AHPA.